Gary Russell Jr. and Vasyl Lomachenko are one third of the way through their trilogy, which is to say that the former hopes to avenge his 2014 defeat to the latter and he wants to throw in the rubber match to boot.
"When my career's over and done with, I'm gonna need to fight Lomachenko two more times," said Russell (27-1, 16 knockouts).
The problem, as Russell sees it, was that he was a shell of himself against Lomachenko. And were that not the case, Russell thinks he could still be undefeated and this business with the two-time Olympic gold medalist would be over with.
"I think Lomachenko fought a fighter that had to lose four pounds the night of a fight and he lost it in a sauna and was physically drained of all the energy to do anything," said Russell, who also struggled to make weight during the 2008 Olympics in Beijing before ultimately collapsing and failing to compete.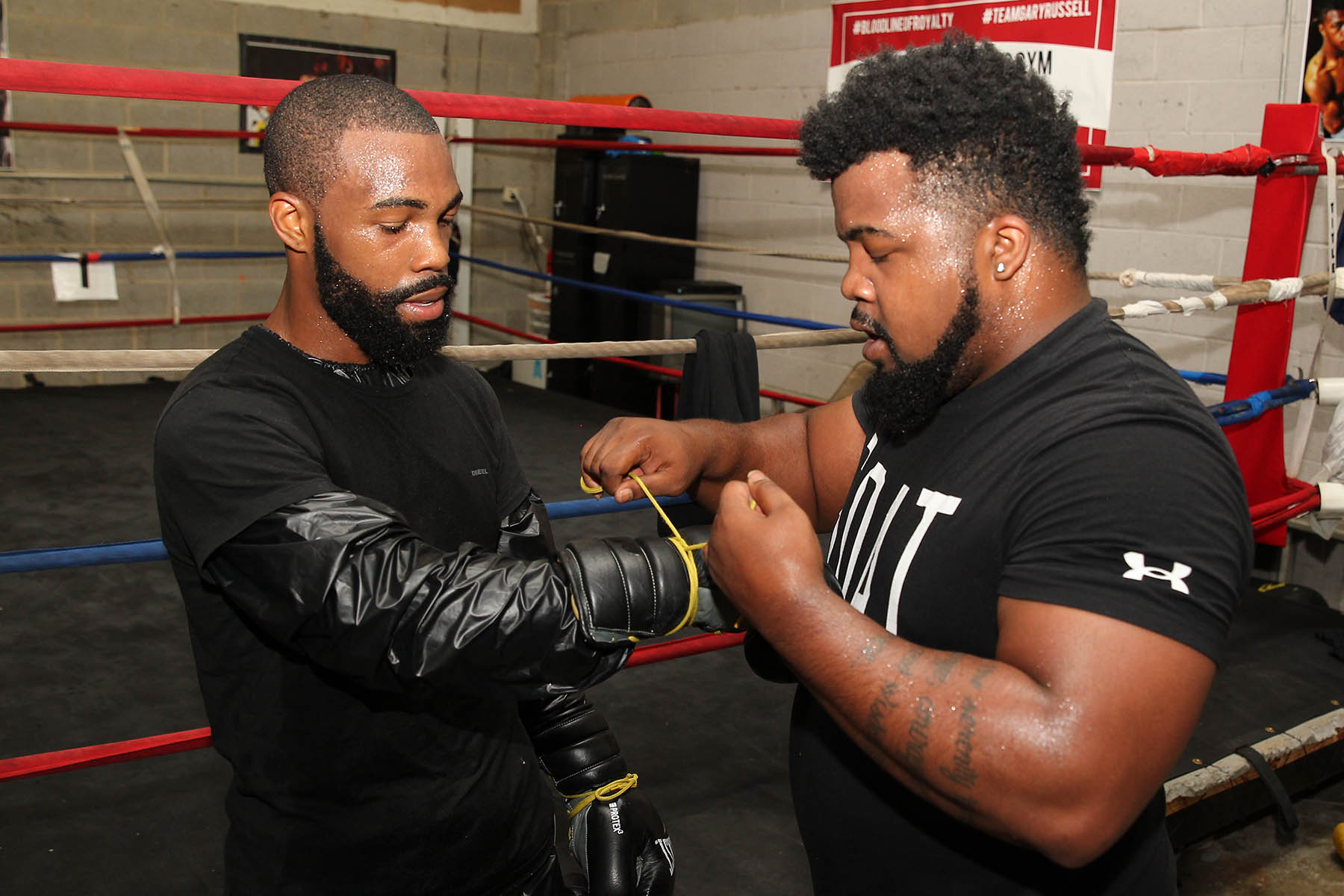 But before Russell can rekindle his rivalry with Lomachenko, who has since moved up to 130 pounds, the 28-year-old Washington D.C. native has some other boxes to check off, and he isn't giving himself much time to work with.
"Three tops," Russell said when asked how many more years he plans on fighting.
Russell is scheduled to defend his WBC world featherweight title against Oscar Escandon (25-2, 17 KOs) at the MGM National Harbor in Oxon Hill, MD on Saturday. And should he win, Russell wants to unify the featherweight division. That means WBA belt holder Leo Santa Cruz, IBF titlist Lee Selby, and WBO champ Oscar Valdez are all being put on notice.
Again, that's three years to beat Escandon, the WBC interim champ, and as many as four major title holders, one of whom sits at a higher weight class and is currently considered by many to be the best boxer alive.
"We can round them up in the same night if need be," Russell said.
That is, more or less, the plot of "Diggstown," a 1992 film in which Louis Gossett Jr.'s character fights 10 opponents in one night. It is not, however, a realistic option for someone who is in such a rush to retire on top.
Just a few years ago, conquering the featherweight and super featherweight divisions would have been much easier. Now Lomachenko and IBF champion Gevonta Davis are the kingpins at 130, and the featherweight division took a major step forward thanks to Santa Cruz's rivalry with Northern Ireland's Carl Frampton. (The pair split two fights in the last year, the first of which was considered among the best fights of 2016 and resulted in Frampton briefly borrowing Santa Cruz's WBA title)
"I think the division is great," Russell said in his Beltway drawl. "I think everything has a season. About a month and a half ago, couple of months ago, there were no leaves on any of the trees. I look outside now, [they're] leaves everywhere. They growing; this is our season. We are the people that have the talent that's in demand. We have fighters that are willing to push themselves to the limit to be the best that they can possibly be, to try to have a sense of financial gain for themselves and their families. We're the modern day warriors; we're gladiators."
The first gladiator on the menu is Escandon, a former Olympian and prolific power puncher.
Over his last three fights, Escandon has landed an average of 17.3 power punches per round, according to CompuBox, compared to just 12.9 for the average featherweight and 11.6 for Russell over his last four bouts.
"I see a true competitor, a true warrior," Russell said. "I see someone who wants to impose their will, who will bring the best they have. He's a pressure fighter. He's strong. He's durable. He tries to be explosive as well."
The problem for Escandon is that he's relied so heavily on power punches, throwing 52.4 per round over his last three fights, according to CompuBox, whereas Russell threw just 31.8 a round over his last four contests. And with so many hooks and uppercuts, Escandon's defense has suffered, which is why Moises Flores landed 301 power shots while winning a split decision over the native Columbian back in 2015.
Russell, on the other hand, relies heavily on an effective right jab.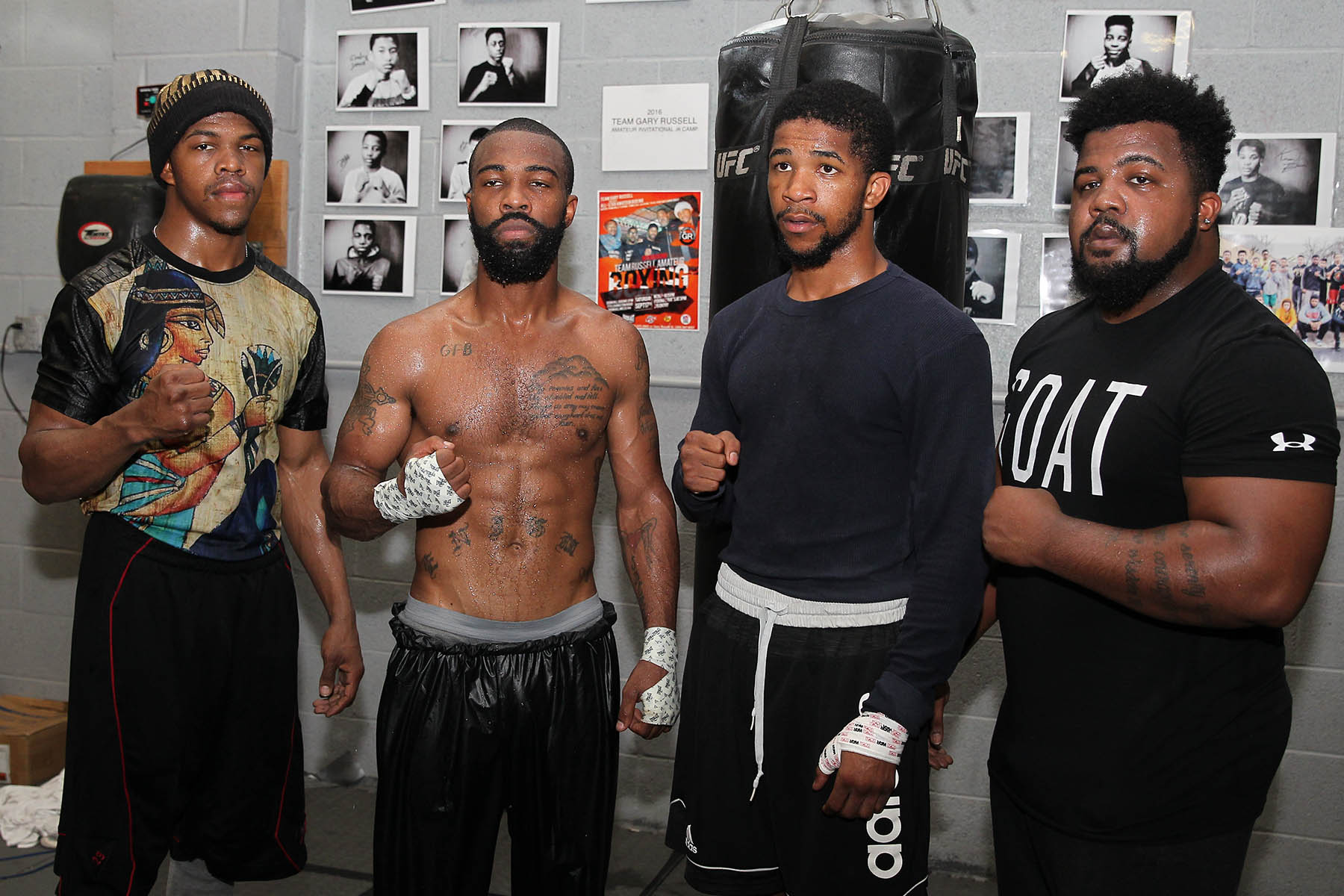 Over his last four contests, the southpaw has thrown 13 more than the average featherweight, according to CompuBox. And although Russell landed just 15 percent of those punches, his jab was instrumental in TKO wins over Patrick Hyland and Jhonny Gonzalez, as well as an unanimous-decision victory over Christopher Martin in 2014.
"I'm very fast handed," Russell said. "I can hit a guy in the blink of an eye. I have the reflexes of a cat. I have the explosiveness, the punching ability, the smarts to be able to out-finesse my opponent and trick them into doing things. I have a way.
Another problem for Escandon will be the crowd, much of which will be coming from Russell's old neighborhood in D.C. to watch him as well as brothers Antonio (7-0, 5 KOs) and Gary Antuanne (0-0), both of whom will be fighting on the undercard.
"We're bringing the whole city in," said Russell, who will be in his brothers' corner before he steps into the ring himself. "These are people I went to elementary school with, the same people that when I was going jobbing in the neighborhood, trying to make the Olympic team, they was honking their horns, telling me to stay focused and to keep pushing. These are all the people that's gonna come that night. The energy is gonna be amazing. All the people that didn't have the ability to get a plane ticket to fly to Vegas or California to watch me compete, now they get their chance with me 15 minutes away. I'm so looking forward to it."
Russell remains a heavy favorite for Saturday against Escandon, who might need a knockout to pull off a shocking upset.
However, Russell faces much tougher odds in his quest to avenge his only professional loss. Things haven't been this tough at 126 in a long time, and Lomachenko only seems to be getting better with every fight.
Russell needs a convincing win on Saturday or he could find himself without a unification opportunity at 126 pounds this fall.
And if that's the case, he might just scrap his plans at featherweight altogether.
"I wanna prove it to myself that I am the best, that I am a world champion, but there are three other world champions at this weight," Russell said. "In order for me to really find peace within myself, I [must] take every one of their titles … I would love a chance at a unification bout, but if not, then I'm moving up in weight and taking over the next division."