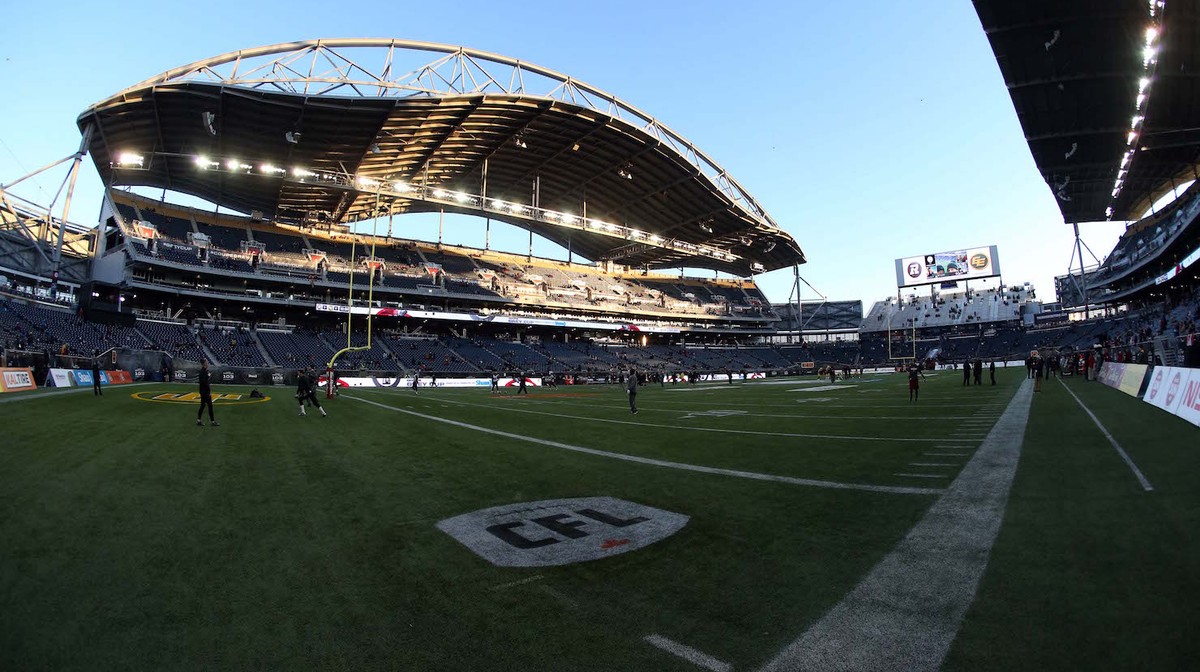 This article originally appeared on VICE Sports Canada.
It's not just players who have a hard time making any serious money in the Canadian Football League.
When Toronto Argonauts running back Martese Jackson ran back a 109-yard kick in the second quarter of Thursday night's game in Winnipeg, Blue Bombers fan Karen Kuldys thought she'd won a million bucks. A controversial flag for an illegal block by the Argonauts' Llevi Noel, however, negated the touchdown and also ripped a million cold ones right out of her fingers.
Kuldys was a chosen contestant for a sponsored $ 1-million touchdown promotion, which would give the Winnipeg woman a cool seven-figure payout if two kicks were returned for touchdowns in the same game. She was off to a great start after the Bombers' Ryan Lankford returned a 105-yard touchdown on the first play of the game, and then appeared to be on her way to a $ 1 million cheque before it was even halftime as Jackson returned one to the house in the second quarter, seemingly scoring the game's second kick-return TD. It was called back, though, and on a pretty iffy call by all accounts.
Kuldys told the CBC that her heart sank the moment she realized how close she was to winning a million bucks, while her husband echoed the sentiment that they were robbed of a big payout because of a terrible call on the field.
"That should have been a touchdown," he said. "I need to get in touch with the CFL. The guy was eight yards behind the guy running into the end zone. And the Bomber guy fell on his own.
"The league is going to say they made a bad call, but that doesn't bring us our one million dollars."
---
---
Fans from across the country rallied on social media in support of the Kuldys, with many reciprocating the opinion that a horrendous call resulted in a million big ones being lost, while the #WhatAboutKaren hashtag began trending on Twitter. On Friday, new CFL commissioner Randy Ambrosie admitted, as much as he could, that it was a sketchy call from a league referee that resulted in the negated touchdown.
"It was a very tough call made by our official last night, one that could have gone either way. There are tough calls made all the time in our game because these are world class athletes, moving at tremendous speeds, and we ask our officials to make difficult judgement calls in the blink of an eye, and we have to respect their decisions," he said in a statement.
Kuldys won't be leaving this situation empty-handed, at least. She left with a $ 25,000 home theatre system thanks to Lankford's first quarter TD, and received an invite for her and her family to attend this year's Grey Cup as VIP "guests of the league." Wade Miller, president and CEO of the Blue Bombers, has also reportedly offered free seasons tickets to the Kuldys family for the rest of 2017 and all of the 2018 campaign. And Sobeys, the company behind the promotion, tossed its hat in the compensation ring, too, offering Kuldys free groceries for a year.
Still, that's definitely not a million bucks and this is, without a doubt, one of the costlier penalties in football history.